Earlier I was reading Heidi Powell's blog, she asked what does 'Perfectly Imperfect' mean to her readers. I thought I would ponder it and write about. Back in August, I found and re-posted this meme on Facebook: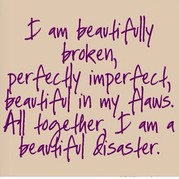 At the time, beautiful disaster is what struck a cord with me. I was in the middle of some very trying times, yet, I could still see the beauty. I knew that I was broken and imperfect and that was ok because I kept putting one foot in front of the other.

I have been struggling to put words on paper. Last week was another hard week for us. We had friends and children going through hard times. We lost our dog. We had to put her down because cancer and old age made inhumane for her to live any longer. This weekend, I struggled with the question of WHY? on so many different levels.

Why does life have to be this hard? Why do people not like themselves? Why do I care what others think? Why does loss hurt so stinking bad? I will answer these, probably not in any particular order because that's not how I do things.

Loss hurts because WE LOVE. We love because we are human and we are made to love. We thrive on relationships. I don't know any way around this pain than to stop loving, and for me that is not an option. So, I chose to love, and those who are grieving with me, we love each other a little more through our pain.

Life is hard because people are humans. They make mistakes. They are SINNERS and in their sin and our own sin, we complicate life. We make things harder than we need. Even though, I have surrendered my life to Jesus, it doesn't make me perfect. It makes me a forgiven sinner who tries everyday to do better. Whether you have surrended to Jesus or not, you too are a sinner. God could save us from ourselves, but then we don't learn the lessons in the journey. Some journeys I am still pondering WHY.

Recently, I have had a few conversations that left me shaking my head. I will admit when you see me, you don't see who I am. I know that what I do physically does NOT match my body. I get that, but I don't believe any reason for people to consider me a liar.

Recently, I had a conversation with someone I had just met. Someone that I did not like upon on first meeting, and can honestly say, I may never like. She rubs me wrong. I want to believe her intentions are good, but I don't know enough about her to know for sure, and I certainly just don't care. We had this conversation, I will call her NG (new girl):

NG: Are you going to Bataan with Dina this year?
ME: Yes, I go every year. I am one of the ones that told her about it originally.
NG: Oh, I know but are you going to actually participate this year.
ME: UMMM..I participate every year. (If you know me, you know the look on my face.)
NG: Oh, I know but do you think you will ACTUALLY FINISH?
ME: UMMM…I finished last year. The year before last, I was three miles short and simply ran out of time. (I am unsure whether I asked this outloud or to myself, "Do you think you will finish? ")

I walked off quite perturbed and my face showed it. I knew exactly where she was going. Although, she already knew I had participated and I was active. She was shocked to see a BIG girl standing in front of her, and she did not hesitate to announce her fat bias. Whatever? I don't really let her affect me or my plans.

I would like to tell you that I never thought about this conversation again, but obviously that is a lie because I am here writing about it. I think its because a lot of people have said negative things recently that have been weighing on my mind.

A few facts:

· I run in Combat Boots and a pack honoring the fallen
· I CrossFit
· I had gastric bypass surgery six years ago
· I am a still BIG girl who still needs to lose weight
· I did NOT eat myself out of my surgery
· I have had a shoulder injury for 18 months that keeps rearing its ugly head. It was NOT from CrossFit. I fell off a cliff.
· I have friends in the fitness industry.
· I have a degree in Psychology and a minor in Nutrition AND Human Performance.
· I know how to write a training plan.
· I do not follow said training plans well.

When I read that list, I feel NO emotions. When I read that list, I feel like all of these facets of life should live harmoniously together. Guess what, they don't? My boots are separate from CrossFit. Until today, unless you know me on a deep level, you may not know about my surgery. I am not ashamed, but I don't talk about it in the everyday world. It is the time for training to begin for Bataan. I can finish Bataan NOW. I can do a little training and finish. I have no doubts. This year though, my goal is to stay with my friends, you know the ones from the fitness industry. I do not want a solo journey through the desert, I want to journey for 26.2 HARD MILES WITH THEM. Which means, I have to train like them.

Now, it begs the question, can I merge two lifestyles together. Can I train for Bataan and continue with my CrossFit goals? Some would say pick one of the other. Not everyone believes in CrossFit and not everyone believes in Bataan. Here is the catch, EVERYONE knows I am going to do what I want. So, no one really tries too hard to force me to do anything.

I have a friend building a training plan for Bataan. I am excited about this plan because she KNOWS what it takes to be successful in Bataan, ruck marches and combat boots. But I have goals in CrossFit, that I finally only spoke outloud yesterday to anyone. I want to compete one day. Yes, COMPETE, even if I look stupid. Even, if I am in last place in the scaled division. I want to know what that is like. I want to do the open workouts in the spring. Yes, right in the middle of Bataan training.

Do you know what will happen? A plan will come together. A plan that allows me to do all of this with a team of people who believe that I can do it. A plan that all of my coaches – CrossFit and Bataan may question because they want me to be successful and not stressed. It is plan that will probably be modified periodically, either as we learn that I can undertake it, or that I bit off more than I can chew. I don't know much about the plan or plans, but I do know that I have built a team of people who ONLY want me to succeed and we will work together to make that successful.

I have written all of this and still haven't gotten to the point of the post about being perfectly imperfect. Maybe it's because there is never perfection. I will always strive to look better and more like an athlete. I will always strive to let the negativity about my looks roll off my back when someone questions my accomplishments. I will always be competitive and want it all. I will always be modifying whether it is due to an injury or life happenstance. I will always be re-evaluating my goals and my training needs. I will always be striving for perfection knowing that the path is an unattainable imperfect mess. And I will enjoy that mess as I go through it.

My hope for you if you made it to the end of this is: LIVE LIFE, BEAUTIFUL! Know that it will be hard. Know that perfection is an imperfect mess. Life might be a disaster right here, right now, but never forget that you are still beautiful! Know that while you may be broken and flawed, you are Beautiful! I remember this about me and you, EVERY DAY!