After I wrote my last blog,
Perfectly Imperfect
, life changed again. Sometimes, when I write, it is more about teaching myself than it is about teaching others. I am learning these hard lessons with you. I have been reliving this last paragraph in my head daily!
LIVE LIFE, BEAUTIFUL! Know that it will be hard. Know that perfection is an imperfect mess. Life might be a disaster right here, right now, but never forget that you are still beautiful! Know that while you may be broken and flawed, you are Beautiful! I remember this about me and you, EVERY DAY!
In the stats and comments, it would seem,
Be Present
, made a bigger impact on you than Perfectly Imperfect and that is ok. Be Present is where I learned that I live in Self-Defeat mode. It is where I learned that I must SHOW UP every day in everything I do. To me, they tie together, they are part of a bigger plan because showing up doesn't always mean perfection. One that scares me just a little. I have dreams and goals! God has put some of them on hold. He led me to Crossfit. I was getting stronger BUT something was missing.
After these two blogs, someone (actually several) said some mean things about me and my fitness journey. It is not new. The thing is, I can't really even tell you who because it is usually an off-cuff comment or passive aggressive in nature. The problem is once the words come out regardless of the meaning, I relive. My head was reeling and my heart was hurt. Two weeks ago, I met with two people, a friend who does crazy life with me and my Crossfit coach.
I walked away from both with a plan. Two very different plans – both plans scare the pants off me. I know what I have to do to finish Bataan. I know that I have to get my feet used to my boots. All of this will come into play at some point. Here is why I hesitate with this plan. I get bored. I need to find conditioning in other ways. I need to find a way to be pushed beyond myself. I need someone who won't let me defeat myself. I did the unthinkable and I asked my Crossfit coach for a PERSONAL PLAN. IF you think, Crossfit is hard, you should try a personal plan. I am pretty sure the man has ordered a death wish on me. I am not doing as much lifting as I would in class, but cardio is kicking my hind-end. I am coming to the end of week two. Things are changing. I have a pair of pants on today that fit tightly three weeks ago. Today, I am struggling to keep them up.
I have been working through a study, called Respect Dare. It is about unconditional respect of our husbands using biblical principals in our marriage and home. This week, actually it was last week, and I procrastinated, one of the dares asked me to envision myself as Peter as he began to walk on water. Here is the story in case you are unfamiliar with it.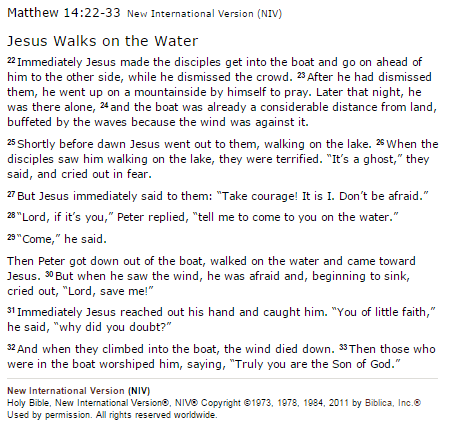 Before, I tell you what I envisioned and what I learned, I want to share with you that I have been hearing "GET OUT OF THE BOAT" for months now. It has been strong and confusing, because I thought I was out of the boat in so many areas. Everywhere, there is the story of Peter. Confirmation that I am in fact supposed to get out of the boat.

I read the verses and close my eyes.

As soon as I stood up, people started screaming at me. It was actually more like we were in a stadium pool. Every person that had ever touched my life was there. The screaming was loud, but all I could hear was the bad. They were calling me fat and a loser. They were telling me to give up my dreams, I was never going to succeed. They told me I was stupid for even trying.

I looked up at Jesus with tear filled eyes. He kept saying "Focus on Me. Focus on MY way and you can get this done." When I finally walked on the water and arrived to him, he told me "I have put your team together and now I need you to trust MY plan will work."

Once again, God is going to use my journey in fitness to grow me. You see, I have a team of people, including friends, family and coaches, who believe in me. They believe in what I can do! Some of them believe in me more than I do.

I have went back to the water many times reliving that vision. It is so important, because every time, I start to workout, regardless of what it is, I hear those mean people. The sound is stuck on repeat and some days it paralyzes me. I have always been ok with last or slow because I never thought I could get any better. Guess What? I don't have to settle. I may not matter to everyone, but I matter to God and I matter to those people who love me. I MATTER TO ME. It is not only acceptable to take care of myself, it should be one of my top priorities. I am excited to see what the next few months bring. I am sure there will be lots of tears, laughter, stories and most importantly, LESSONS. I can't wait to share this with all of you!