The Bataan Expo is Friday and Saturday. During the expo you pick up your packet and have your certificate framed. You also have the opportunity to meet Survivors and hear historical seminars. This year we were also helping Amy. US Patriot Tactical allowed Medals of Honor to share their booth space. We were going to be handing out ribbons for people to honor the fallen during their march.


Dina, Hansel and I took pictures of people with their ribbons. Amy, Carey and Aaron handed out ribbons. Amy has thanked us countless times for our help, but it really was an honor and privilege to help her honor the fallen.

It took less than two hours to hand out approximately 500 ribbons. It is important to note that EVERY ribbon represented a life lost in War. A home that now has a hole it. The number of ribbons we made is such a small number compared to the actual numbers lost. It is a humbling reminder that Freedom is NOT FREE!

We leave to take our yearly photos. Every year we take photos and Amy makes a video. I haven't seen all of them yet but I'm looking forward to them. We took a few because we will be doing a separate video for my journey this year. Here is a sneak peek!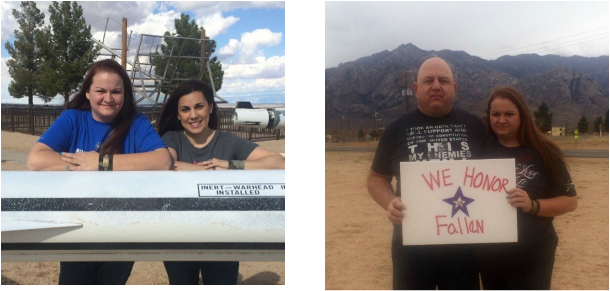 After our photoshoot, we went our separate ways. Aaron, Dina and I stayed on base because we were going to attend the History of Bataan seminar. We knew that Bataan was during WWII and that our military along with the Philippine military were forced to march for miles and if they got sick or fell behind they were killed. We even knew prior that they were POWs. What we didn't realize was just how bad those conditions were. They marched 65+ miles. They were POWs for 3.5 years. The Japanese made killing them a game. During their time as POW, they were forced to work duty. IF they were too sick to work, they were not fed. Many died of starvation and disease. After they were rescued and returned, many were still unable to recover and died then. At one point during the seminar, they showed a picture of a "healthy" man who was fit to work. I looked at Dina and before I could speak, she said what I was thinking, "That is healthy?" There were a lot of tears during that seminar.


We already respected the survivors but now our respect had been tripled at a minimum. Now, there was no way, we could ever quit the journey.

If you do not know the history of Bataan, I urge you to research it. Research all of our wars – Our military is full of amazing men and women. They endure hell on earth to keep us free and safe. Teach your children. Let us not forget that Freedom is NOT FREE!