Going to Bataan!
Dina and I always have a good time when we travel and, generally, some weird things happen. You know when your morning starts at 3am that things are bound to happen. Our early flight would prove to be a comical morning.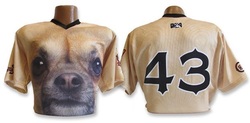 It starts with bag check-in. I can't tell you how in the world we get on the subject but apparently El Paso has a baseball team with a Chihuahua as a mascot. The jersey has a picture of a Chihuahua. Now, I was tired and I was pretty sure this man was messing with me way too early in the morning. Oh NO, he pulled out his phone and googled the picture for me. Seriously, I can't figure out who thought that was a good idea.


Next, we get to security and here is where it gets comical. The guy says your ticket doesn't match your ID, I can't let you through. Seriously? He let Aaron through on my ticket but would not let me through on Aaron's. So we have to get Aaron back to the ticket station to fix it. We go through security and all seems fine UNTIL Dina gets pulled aside. What for you ask?

HAIR PRODUCTS

Yes, Dina tried to carry on contraband hair products and they confiscated them. Confiscated hair products, I felt her pain, and there was a lot of pain.

Next we are at the gate and Amy walks up. After a while, she notices that her Driver's license is missing. UH OH. We know she had it because she got through security. Now what? We dump her bag more than once. She recounts security: I put it in my shoe with this stuff and everything is there except the license. Did you check your boot? No, I would be able to feel it. She goes back to security – No ID. She is starting to freak out a little, ok so we all are except Aaron. He says "check your boot." Amy says again "I would be able to feel." Aaron says "check your boot". No one really argues with Aaron, so she checked. Guess what? It was gotten stuck to the side and she was not able to feel even with putting her hand in the boot.

Don't worry something has to happen to me too. It really happens on the flight home but here is the comic relief for the trip to Bataan. Attention passengers flying to Houston: There is bad weather in Houston and if you miss your flight, you are financially responsible for your connection. Or something like that. WTH? I have a $400 plane ticket and you are telling me you don't have to get me on a plane, I have to buy another ticket. Well, I am freaking out because I don't have a lot of extra money to buy another plane ticket. I may as well go home now. Then she comes and says something similar, except it doesn't sound like I am responsible for a ticket. Apparently, if there is bad weather and our connection is missed they have to get us on another flight, but they do not have to feed us or put us in a hotel IF it keeps us overnight. OK….This scenario I can handle, buying another plane ticket, I cannot.


Coming Home

I would like to tell you that our return travel was less adventuresome but that would be a lie. Except this time I was not finding any of it amusing. We check in and are one of the last people who will be boarding, so we know we will get crappy seats. Crappy seats and hurt bodies DO NOT MIX.

We get to the Airport and everyone is starving, including me. We go through security. No ticket issues or contraband items. ;) We find a restaurant and everything on the menu has egg on it, so we go to the food court. Would you believe that ALL THREE restaurants there have NOTHING I can eat? The Mexican restaurant is only serving breakfast burritos. Pizza Hut has egg in their crust and pasta. Quiznos has egg in their bread and apparently tree nuts. UMMM? Makes me a little nervous. I am aggravated to say the least. Aaron is in a bad mood because of his non-finish and calls me a baby. You know what a sore, hungry woman does when she is called a baby? She storms off through the airport, finds a seat and cries. CRIES over food. Yes, I cried over food. Our flight had two legs and we never exit the plane. I was sure I was going to die of starvation or egg poisoning. I know, it is a little dramatic and over the top. But honestly, I can't even talk to Carey or Dina without crying.

Luckily, or not so luckily, lunch time starts at 10. So I march back down to the Mexican restaurant. Generally, Mexican is safe for me. OH but not here, their tortillas have egg in them – ALL THREE KINDS OF TORTILLAS. Now if this wasn't bad enough, the woman had royal attitude and wouldn't even talk to me to see if we could find anything on her menu that I could eat. Quiznos could feed me a salad without dressing. Yes, that is going to make me less hungry, rabbit food.

So I cry some more. Finally, I see Aaron. He has searched the Airport and found me a burger - a burger that is burnt, on wheat bread and no cheese. Why no cheese? Because we found a restaurant in Las Cruces that said their cheese had egg in it. Now, cheese is not safe and they were not able to tell if I would die from their cheese, so he refused cheese. So I ate the burnt hamburger and fries. I was grateful for Aaron getting it but I was upset enough over this whole debacle that it made me question whether or not I would fly again. I can't bring drinks into the airport, so I have no clue if I can bring food.

We get on the plane. The flight attendant is hateful. She says we have to put Aaron's bag in the overheard bin and to hand it to her. I went to hand it to her and she tried to take it one-handed. It was heavy so I warned her. She rolled her eyes at me so, in April fashion, I said something smart to her. She acted like she wanted to fight so I told her to just not speak to me the whole flight and we would be fine. She said something smart and walked off. She took me serious too, because we didn't speak until we landed in Houston and that was only to clarify something. I was a little too happy to know she wasn't going to be our Flight Attendant on the second leg.

The whole first leg, we are in front of these two ladies and a man. Those ladies NEVER SHUT UP. They were giving this guy bad advice on running and nutrition. Then, they were telling him rules of Bataan and the military that were just wrong. It took all I had not to turn around and tell them to be quiet and that they were wrong. I really did them all a favor by not talking to them.

We land in Nashville, get our bags, and load the shuttle bus to pick up our cars. This should be non-eventful too but NO. It is full and the guy catty-corner to me kept stepping on my feet. Again, it was best that I just not speak.

In hindsight, it really was Satan just trying to mess up our trip. On the way to Bataan, we found it quite comical. On the way home, I almost let him win. Well, I did let him win until we got home, then I took control back. His antics would continue in our lives for the next 24 hours after we return. Dina, Amy and my family were hit continuously after we returned home. Those lessons and events are probably best left alone at this moment. Just know that ultimately, God will still get the Glory for this trip and Satan will lose.