Normally what happens at the Holiday Expo, stays there. UNLESS you are with April and Dina, then we expose the truth, the whole truth and nothing but the truth.

So what do you get when you combine funky trash cans and thieves in the rich part of town? The Holiday Expo that Dina and I worked. As usual, Dina and I found humor in our work. Thursday night started out very cold and we have the prime location by THE DOOR.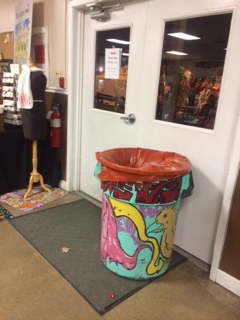 The expo was advertised to have free food and wine. These people were not here to shop. They were here for the freebies, including our candy bowl. We had a little boy, probably around 4 or 5, who whose hand was slyly in the candy dish every time we looked up. As soon as his hand would hit this dish, his dad would put his hand on his shoulder and tell him no more. This lasted the entire night. We also had an old lady who thought I couldn't see her putting candy in her purse. What do you say to candy thieves? NOTHING! You make note to write about it later.

We quickly got cold at our prime location by the door. As you can see from the picture, there was a funky trash can placed in front of the door to alleviate the door getting stuck open. These people DID NOT care that I was cold, nor did they care the door was blocked. They were in a hurry to go to the next food station and my frozen tush was not important. Rather than OPEN the correct door by turning the handle, they would contort their body to go around the trashcan so they could push the door open.

Apparently, Dina got us a booth in the rich part of town. It was spacious and designer clothes were everywhere. We would eyeball something, and go sneak a peek at size and price. Usually our mouth would drop open in dismay at the expensiveness of the items. These people really like the clothes they are selling. They were cute, but there were a lot of plaid and boot ruffles. Boot ruffles – who knew they were real. Don't fret, I may not have known what they were but Dina bought a pair. I think maybe she is rich and forgot to tell me.

As the night was winding down, something interesting walks through door. What you ask? Two girls who are working a salon booth that we called SSS. They were loud and stumbling, maybe a little too much wine? Now, if it wasn't enough, they couldn't walk straight, they wore BRIGHT pink eye shadow. They were giving bad advice to people. So, in an effort to be nice, I will stop and just say, I think Lilly needs to give them a makeup lesson.

Friday morning, we come in expecting to do a lot of work, and of course, there are more shenanigans.

A woman was walking around with bare feet. Really? I love bare feet, but in public at an expo??? Not so much.

Then there is the guy who was flirty inappropriately. Now this is kind of funny, because I was unaware for a minute that it was towards me. Finally, I realize the creepy stares are at me, so I look at him. He smiles, turns blood red and says hi. He cocks his head like he had won first place in something. Dude, I am married. UGH!! He was lucky Aaron wasn't here.

We had this vendor across the way. Twice, we look over and his wife or girlfriend is feeding him. Best, I could tell, he was quite capable of feeding himself. It looked like she was trying to be romantic. Again, really? At an Expo? Umm, No!

Shortly after, the Green Lantern comes in. I am not sure who bought him the sweater or if someone told him it looked good. I didn't even know they made GREEN sweaters that bright for men.

Because this is a holiday expo, there is Christmas music playing. The DJ needed to be fired. I don't even know how to be a DJ and could have done a better job. Friday, Ava Maria played no less than 20 times, AND seven of those were in one hour. Saturday, the music was either too low or too loud. At one time, they had two songs playing at once.

We could write all day about the things we witnessed at the expo, but I think this gives you a pretty good idea. It was quite a comical three days of people watching.